Public transport
Several options available!
By bus:
Buses from Ferrette, a village near Morimont. Depending on your starting point, look at lines 830, 831, 832 and 851. Timetables and routes are available on this page. There will still be a few kilometres to go.
By train:
From Switzerland, take the train to Vendlincourt station.
From France, take the train to Delle, Altkirch or Belfort TGV.
Then you need a short drive, get organised!
Car sharing
Sharing cars
In order to improve accessibility to the Festival, we have set up a carpooling system with an easy tool from mobicoop: on this link.
We would really appreciate it if all drivers would register their car: our beautiful meadow transformed into a car park will thank you!
Hitchhiking
Hitchhiking to Le Morimont
If you come during the day, you can hitch a ride to Ferrette and then Oberlarg, many people know the castle of Morimont, and will drop you off near the festival!
Camping
In a tent
The best way to enjoy nature around Morimont is to sleep in a tent! A large space is reserved for camping, and sanitary facilities (outdoor hot showers with watering cans, compost toilets) are available to campers for the duration of the festival!
The weather can be chilly, so bring warm clothes.
By van or motorhome
For VW Combi!
A flat car park is reserved for campervans, close to the campsite: you will have access to compost toilets and outdoor showers!
Hammocks
Under the stars in the forest
A good way to sleep at the festival is to come with your hammock to set up in the forest for the night, with the owls! A change of scenery guaranteed!
Pizza food truck
The food truck :
A foodtruck serving pizzas will be there on Saturday!
Note that unlike the big festivals, the Morimont is very small, so there's less choice of food. So make sure you have enough to eat ;)
Schedule: Saturday 12.30pm – 6pm
Wraps flambés
Wraps flambés:
Wraps flambés (including vegetarian) can be purchased in the barn.
Schedule :
Saturday 7.30pm – 10.30pm
Sunday 6.30pm – 9.30pm
Meals by our volunteers
Meals by our volunteers:
Our beloved volunteers will cook some meals, for a limited number of plates. Service in/front of the barn.
Schedule:
Friday 7.30pm – 10.30pm: Baked vegetables and falafels (40 plates)
Saturday 1pm – 2pm: Vegetarian lasagne (30 plates)
Sunday 12pm – 2.30pm: Lentil curry (120 plates)
Bar
The bar: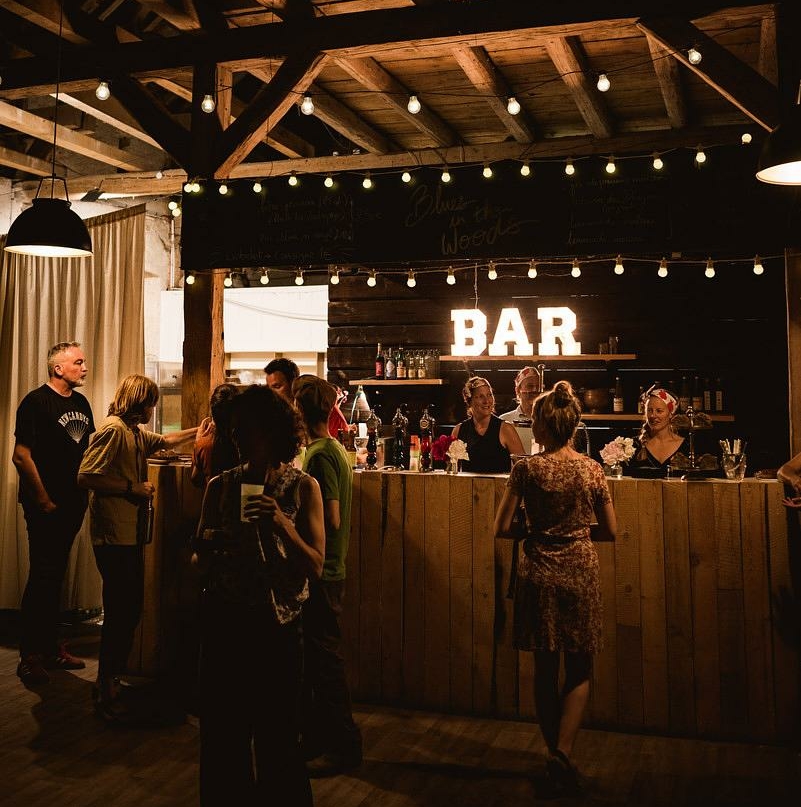 The bar offers a range of good drinks and beers from the region.
For a snack between dances: gluten-free cakes, sandwiches, fruit, etc.
Drinks are sold via drink tickets, which are available at the entrance to the barn.
Hours: during the balls
Tisanerie
The tisanerie: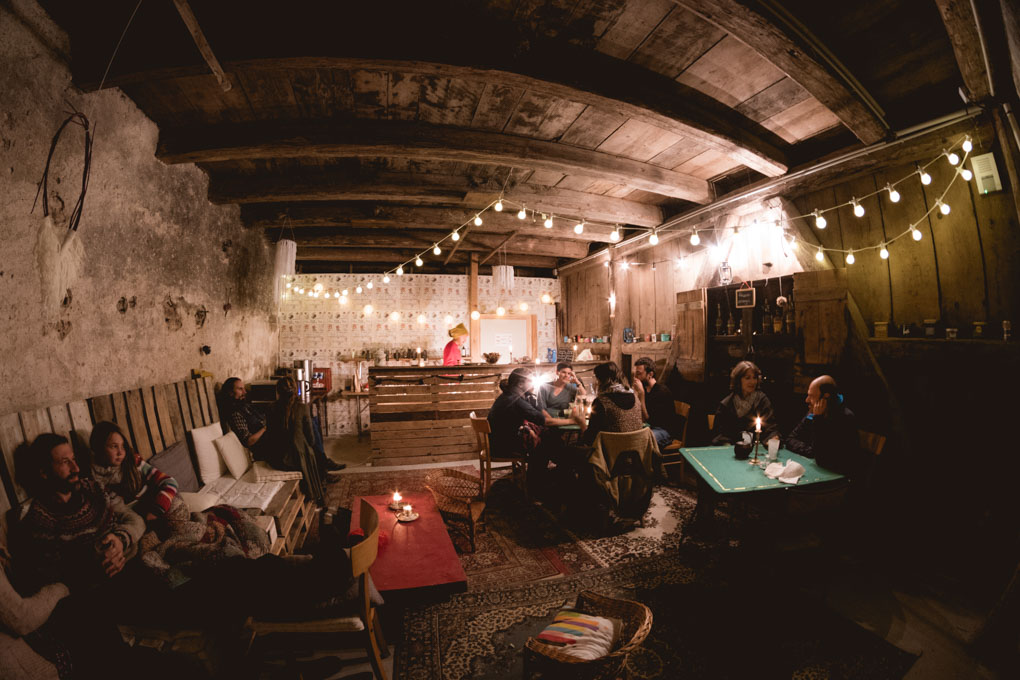 A cosy, warm place to have a tea or a rum concoction, to warm up from the inside!
Drinks are sold via tickets, available to purchase at the entrance of the barn.
Opening hours: 9.30am – 2am (closes at 9pm on Sunday)
Can we bring children?
Children are welcome!
The Tisanerie will be a privileged place for the children: it's a warm place and equipment will be available to help manage the little ones: reheating small dishes, serving meals, nappy changing, etc…
The program (stories, walks, workshops, bal des lutins and concert in the forest) is planned to entertain children!
Do not hesitate to inform the organisation if you plan to come with your children!
Can I bring my pet?
Pets:
There are already dogs and cats in Morimont, who live on the spot (not to mention all the local fauna which the place belongs to much more than to us!).
If you wish to bring your pet with you, please let us know beforehand and we will deal with these requests on a case-by-case basis.
Not informing of your arrival with an animal can lead to conflicts (between animals and festival-goers).
We don't want to prohibit access to animals but we want to be able to anticipate things!
Lost & Found
Have you found something that seems to be lost during the festival? Do the owner a favour and leave it at the entrance to the barn. This is also the place to go if you have lost something yourself.
Wifi
The Morimont is a bit of an outpost… and the wifi sometimes gets lost along the way!
There is free wifi at the hotel reception, but we are limited…
Safer place
The world of dance is a small world. Dancing brings us into physical contact. In the dance, even more than elsewhere, it is extremely necessary to pay attention to the limits, desires, and needs of each person, in order to respect ourselves and others.
The rules of consent in dance are displayed everywhere at Morimont, and know that we are implementing human measures to ensure that everyone feels comfortable. (We are always looking for new ideas!)
And first and foremost, before the festival, each person can reflect on their own behavior to improve our collective and individual conduct.
Thank you for being attentive to others and to yourselves!